My life is beautiful. I tend to have an easier time recognizing this beauty when I'm looking at it from a distance. When I take a step back from the duties associated with my existence and reflect on the purpose of my being, gorgeous images of joy and truth attach themselves to the retina of my mind and I am stunned by all I have: two children … healthy, bright, strong and thirsty for Jesus; a husband … loyal, loving and filled with a dry sense of humor and a deadpan delivery; friends and family … those near and far who love me as I am; and a home complemented with items (some needed, some superfluous) for nourishment, rest, spiritual growth and relaxation.
When I have a squashed-nosed view of my life, the beautiful sometimes gets lost in the details and I see creases, chaos, a laundry list of demands and a basement floor piled with laundry. When I stare at my life at close range for too long I have difficulty embracing the moments that matter.
Since I ventured to my own url four years ago, blogging has provided me with a better vantage point to breathe in my life and to then leap forward into its magnificence. Through writing, prayerful preparation, study and fellowship with an amazing community of women who "get" me without having "met" me. This online community began with Becoming Me and grew when I joined with an incredible group of women at (in)courage.
Here is a sweet video with more information about this community.
This spring … April 27 and 28 to be exact … will offer an exciting chance to gather with fellow members of the (in)courage community from right where you are. And … you're invited! You're invited if you're a blogger and if you're not. You're invited if you have read (in)courage since its inception more than two years ago, and you're invited even if you have never heard of the (in) community (but if you fall into the latter group … please do visit our little virtual beach house).
The not so little event that you are invited to is called (in) Real Life. And it is our way of bringing our beach house to you via hundreds of different meet ups across the world. You can join mine … or one close to you … or start your own … it's easy and the registration fee is only $10 ( and it includes a T-shirt and DaySpring's Simply Marvelous card pack). I think that this event will also provide one of those special opportunities to take a step back to clearly focus on the beautiful.
Here's a a trailer with additional information.
You can also get more information and register by clicking on this pretty box.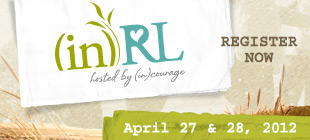 So … are you coming? Need more info? Want to help me plan my gathering in the Mid-Ohio-Valley? Please share your thoughts in the comments section.